Materials Research Project
Thin Film Photovoltaics on Flexible Substrates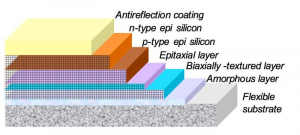 At present, over 90% of solar cells are manufactured with bulk silicon technology. Thin film Photovoltaics offer the advantage of a low-cost fabrication alternative for solar cells.
However, the efficiencies of thin film photovoltaics such as amorphous silicon, CdTe and CIGS (copper indium gallium diselenide) are lower than that efficiencies achieved with single crystal silicon (24%).
Amorphous silicon films are readily fabricated on glass and flexible substrates such as stainless steel and polymers but suffer from light-induced instability and reach steady-state efficiency levels of only 12%.
In this project, we are studying crystalline silicon films on flexible metal and polymer substrates. A key difference from the state-of-the-art is the use of biaxially-textured buffered substrates instead of conventional substrates. Using an ion beam assisted deposition (IBAD) approach, an excellent degree of biaxial texture is achieved in nano-scale films such as MgO on flexible substrates.
The biaxial texture provides a pseudo-single-crystallinity which is then transferred by epitaxial growth to crystalline silicon. A pseudo single crystalline structure enables achievement of higher efficiencies in the crystalline silicon film.
We are studying the influences of low angle grain boundaries on efficiencies as well as investigating further improvement to efficiencies using multi junctions and nanostructures.