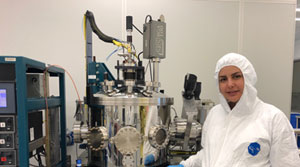 Sara Pouladi, a Ph.D. candidate in the Materials Science and Engineering at the UH Cullen College of Engineering, has been awarded the 2018 Albert Thumann in the Foundation of the Association of Energy Engineers (FAEE). "The AEE Foundation Scholarship program was established to encourage qualified practitioners in energy engineering and energy management to further education in these fields by awarding scholarships".
Sara Pouladi has been first selected by the AEE Lone Star Local Chapter and introduced to the AEE Scholarship Committee as a nominee for the AEE National Scholarship. She has been chosen to receive the top honored scholarship of the AEE which is each year one AL THUMANN SCHOLARSHIP to be awarded to the most outstanding nominee.
At the Cullen College, Sara Pouladi works on various renewable energy related projects through developing energy devices with the aim of improving performance efficiencies and reducing manufacturing costs in the research group of Dr. Jae-Hyun Ryou, Associate Professor of mechanical engineering. Sara Pouladi said that "It has been a great honor and experience for me to work under the supervision of Dr. Ryou."
As a 2018 recipient, Sara Pouladi received a $4,000 honorarium, a 1-year AEE national membership, and the invitation to attend the 2018 World Energy Congress.
Learn more about the FAEE Scholarship at https://www.aeecenter.org/about-aee/aee-foundation